Got a special skill? We can always use writers, carpenters, marketers, etc. What's Your Talent?
Like talking to people? You'd probably be great at helping with our community efforts or staffing fund raising events that save us thousands of dollars.
Love parties? We'd love your help at one of our fundraisers or host a parent support group.
Are you the quiet type? C'mon down and give us a hand in the office. Assist with mailings, answering phones, data entry, or preparing resource materials.
Have lots of friends? Help us organize a fundraiser. Start a support group. Head a team at the Buddy Walk.
---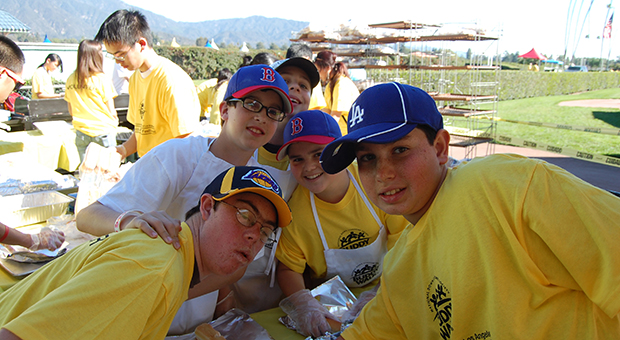 To begin the volunteer process, please fill out and submit the volunteer application.
In order to provide our families with the best possible experience, we may require our volunteers to go through an interview and background check before becoming an active volunteer at Down Syndrome Association of Los Angeles.
Volunteers must be at least 16 years of age (some volunteer opportunities require individuals to be 18 years old).  For internship opportunities, you must be able to commit to at least two hours per week for a minimum of three months.

If you have any questions, please send us an email to dsalavolunteers@gmail.com.
We are unable to process your volunteering request without a form.  No phone calls please.
---
Buddy Walk Group Opportunties
Volunteer opportunities for organizations or groups are available at our 22nd Annual DSALA Buddy Walk. In order to volunteer, groups of 10 or more individuals are required. Volunteers must be at least 16 years old. Group leader must submit signed waivers for all volunteers to the volunteer coordinator the day of the event. Volunteers under the age of 18 must have a waiver signed by their parents/legal guardian in order to participate.  Please visit our Buddy Walk Page to complete the Buddy Walk Volunteer Group Form.