Teen/Young Adult Social Club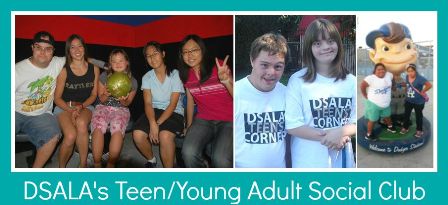 Teen/Young Adult Social Club
Join us the 4th Saturday of every month for an opportunity to interact with other teens/young adults, form friendships, and partake in social outings in the community. These events are for individuals ages 18+. Participants must be accompanied by an adult and meet the group at destination.
DSALA wishes to provide a pleasant experience for all participants. Therefore, a parent or guardian must be present for the duration of each activity.
Mission San Fernando Tour!
Join us for tour of the historic San Fernando Mission. Admission $4 adults, $3 seniors 65 and over and children 7-15, free for kids 6 and under. After the tour we will have a picnic and Easter egg hunt. The Easter bunny will be joining us
Unase a nosotros para un tour de la mision de San Fernando. Admision $4 adultos, $3 adultos mayores de 65 y ninos de 7-15, gratis para ninos menores de 6. Despues del tour tendremos un picnic y busqueda de huevos de pascuas. El conejito de pascuas nos acompanara!
Unase a nosotros para una noche de juegos! Aperitivos ligeros seran proveidos.